Luiz Hara also known as The London Foodie, raised in Brazil, lived in New York and now resides in the UK. Luiz is a graduate of Le Cordon Blue specializing in French Cuisine and Patisserie, loves his food and travels and has written for many publications both nationally and internationally. Luiz is also the founder of a popular London Supper club specializing in Japanese, French and Nikkei food as well as hosting regular Nikkei cookery classes
I was very excited to receive this book, anything new foodie wise excites us and Nikkei was or so we thought something new to us, that is until I read the book and realized that I had eaten at Sushisamba in South Beach Miami a number of times without realizing the menu there is very much of Nikkei influence.
Nikkei the word comes from the Japanese word 'nikkeijin' which refers to the Japanese people who migrated overseas and their decedents. Nikkei the cuisine is therefore the cooking of these Japanese diaspora. Interesting that Brazil where Luiz was raised has the largest population of Japanese outside of Japan alongside it's neighboring country Peru. Nikkei cuisine is simply defined as Japanese food cooked the South American Way. Don't however call it fusion food, when you read the history and introduction Luiz provides to this book, you'll fully understand why.
Reading as we do cover to cover, tagging a we go, always gives us an insight into the author and what they are aiming to achieve. It is clear this book is very personal, the recipes are traditional and authentic and it shows that they are written with passion by someone who knows exactly what he's talking about. The photography is stunning, colorful and vibrant and by the end of the book we felt like we had been on our own culinary journey and we were ready to get stuck in with the recipes.
We highly recommended Nikkei if you want to add something new and exciting to your kitchen repertoire. This is not a beginner's book by any stretch, you will learn a lot about Nikkei cuisine but you do have to have some level of skill in the kitchen and an appreciation and supply of quality ingredients. You won't find many of the specialist ingredients in your local supermarket; there is a list however of specialist Nikkei ingredients and a directory of on line suppliers in the book where ingredients can be easily purchased, Vivaperu being a personal favourite whom we have used many times and can highly recommended.
Once you have your ingredients there is a section on mastering the basics, sauces, marinades and condiments. The book is then divided into sections starting with small eats, sushi (tiraditos and ceviches), rice and noodles, soups and hotpots, mains, vegetables, salads and tofu and lastly desserts. As a testament to Luiz there are also various recipes provided for the book by renowned chefs such as Jordan Scala from Chotto Matte in London and Pedro Duarte, executive chef at Sushisamba.
Thank you Luiz for exciting us and bringing a whole new world of flavours into our kitchen.
'Nikkei Cuisine by Luiz Hara is published by Jacqui Small (£25). More information on the book can be found here.
Recipes cooked so far:
Tuna tataki with truffle ponzu & toasted hazelnuts
You need top quality tuna for this so it is melt in your mouth tenderness. The truffle ponzu dressing is a revelation in itself and we have used it as a dressing on other salads.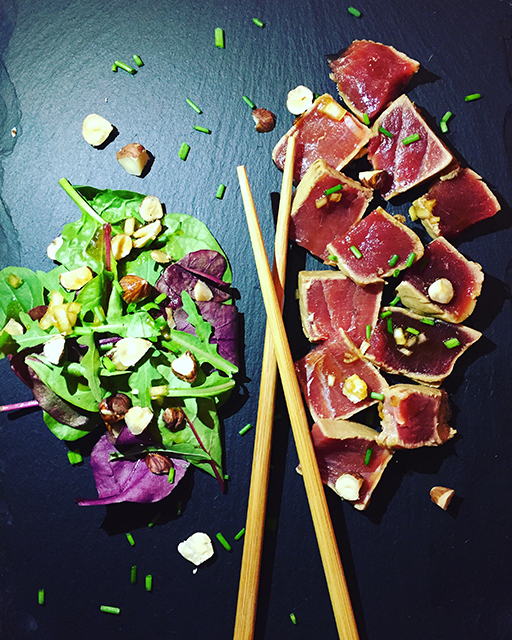 Aubergine, pork & rice noodle salad with a zingy soy, chilli and ginger dressing
You have to deep fry whole aubergines for this recipe which was new to us and a completely difference texture to any aubergine we have tried before, classic Japanese flavours going on here.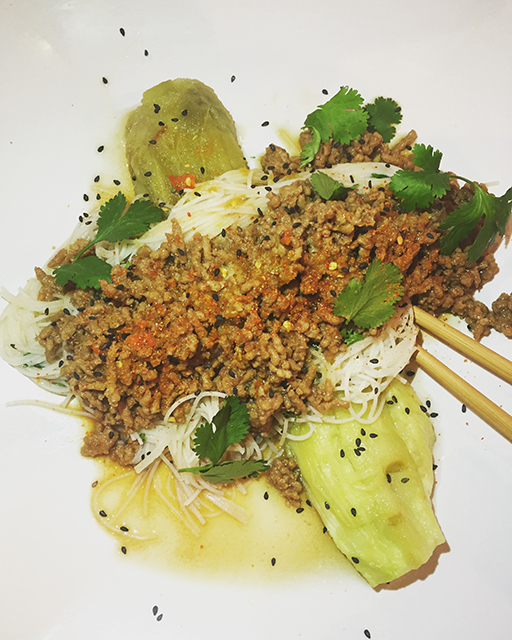 Nikkei piri-piri poussin
How could I not try this having worked for Nandos for many years. Simply delicious, especially the left over marinade used to make the sauce. You need aji rocoto paste for this which is a different chilli taste for you to experience. We used a small chicken, drumsticks and thighs as a poussin wasn't big enough for us and our guests! There was nothing left but bones.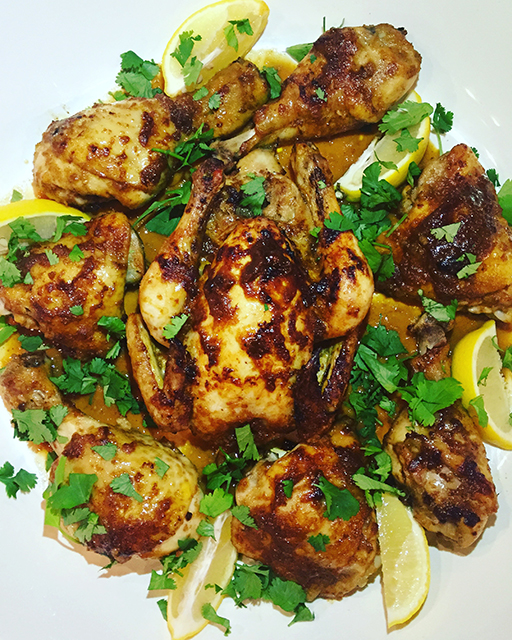 Nikkei fish and chips – Tempura of monkfish, cassava chips and wasabi mayo
The recipe asks for monkfish cheeks but we couldn't get them so rather extravagantly just used chunks of monkfish. We have never had cassava chips before, they take a bit of time to make but worth the effort. The tempura monkfish was perfect, crispy light batter, perfectly steamed monkfish and anything with wasabi mayo gets our vote.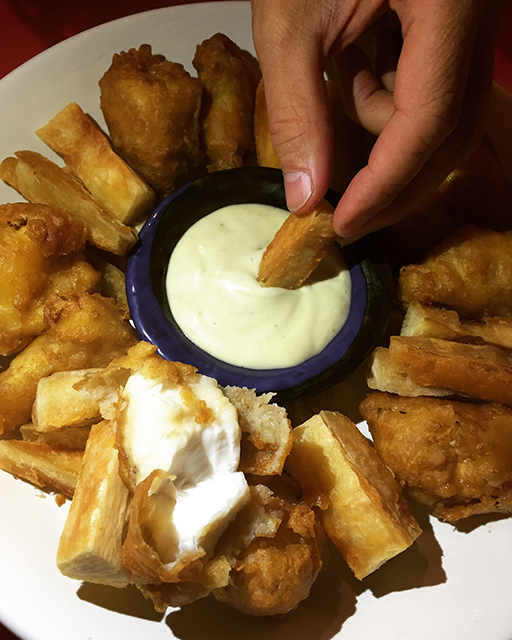 Broccoli, sugar snap, fine beans & asparagus in toasted black sesame dressing
You can of course use whatever green vegetables you like here but they must be al dente to retain their colour and flavour. We love this nutty sweet salty dressing and have also used it as a dip.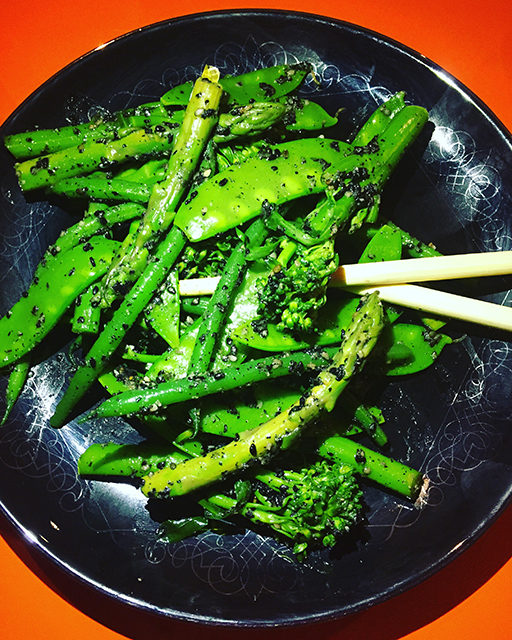 Nikkei lobster rice – creamy lobster bisque, saffron & white miso
Luis recommended this to us and the title itself should be enough to tell you that it will be amazing and it was. Imagine a creamy sumptuous savoury sweet umami sensation and you've nailed it. Simply the best.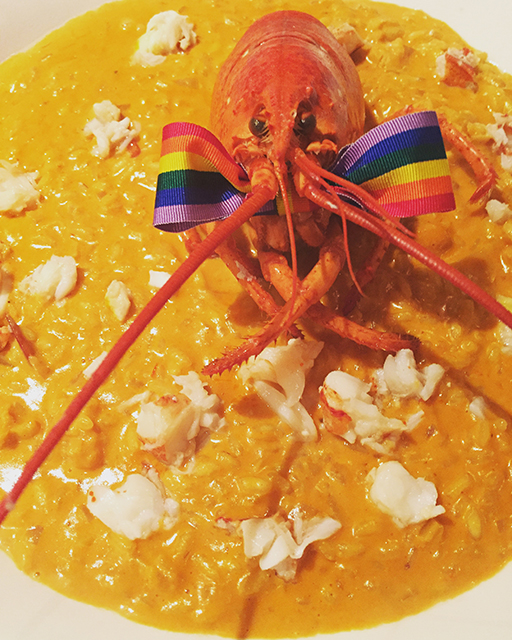 Pan fried rib eye steak marinated in miso & aji panca
We do love anything with miso in and this marinade uses red miso with another chilli paste to try aji panca which isn't too spicy and has a nice smoky taste to it. This is great served with the green veg in black sesame dressing.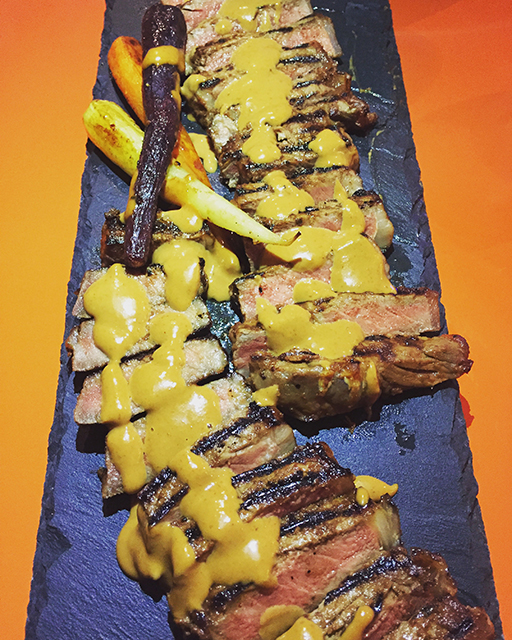 Oreo and green tea cheesecake
We just had to make this as we have a cat called Oreo and we also love green tea. You must get quality matcha green tea powder though to make this New York style baked cheesecake or it just won't work. This is a very creamy cake, not too sweet or rich though and you can serve it in small portions if need be.