If you ask anyone what they know about Caribbean cuisine, you will more than likely get a limited response, just like any other place in the world it has its iconic and most well know dishes, jerk chicken, patties, salt fish and ackee, curried goat, rice and peas might just about be your standard response. There is nothing wrong with these classics of course but there is so much more to the diverse cuisine of the islands. The food that I remember was always so vibrant and colourful, a heady mix of spices and heat, fresh fish in abundance, tropical fruits served on platters which I mostly had accompanied by a planters punch. It was travelling around these islands where I was first introduced to ingredients that are now so easily available and popular in the united kingdom, sweet potatoes, plantain, mango, salt fish, I can even buy fresh callaloo at my local multi ethnic superstore. I guess I'm lucky living in Manchester because even though the United Kingdom is a melting pot of cultures, unless you live in the big cities you are unlikely to have experienced Caribbean cuisine, unless you have been there of course. Restaurants and takeaways are few and far between and unless there is a strong cultural presence within your community then your supermarkets won't have an obvious ingredient section that catches your eye as you peruse the isles.
Shivi Ramoutar changes all this and her fabulous book 'Caribbean modern, recipes from the rum islands', can help you bring some Caribbean cuisine into your home. Shiva grew up in Trinidad, lived in New York and now resides in London. Labelled as 'Caribbean food supremo' by the guardian, her mission in her own words is to twist those Caribbean dishes and ingredients from her childhood into her own vibrant, fresh and easy to make delights. After reading and cooking from her book I'd say her mission has been accomplished. Shivi is one of these new breed of cookbook authors who quite clearly have a passion for food and work hard running cookery classes, supper clubs and pop up's and now she can add a cookbook to her list of achievements.
'Shivi's food is bright, colourful and hugely evocative. I want to eat everything in this book'. A lovely endorsement by Thomasina Miers
I love this book, it has a wonderful introduction which explains all about the islands and Caribbean food and really sets the tone for the book. There are nine sections from cutters (snacks for sharing), soups and salads, one pots, two pots or three, something on the side, sweet things, sticky fingered goodies, drink up and for the larder. Shivi covers all bases in this book making sure you get a taste for all things Caribbean with ingredients that are easily available. The photos are all true to the recipes and look exactly how they read from the recipes. I particularly like the picture of the Jamaican beef patties, there is one missing, and I want to know who ate it?
So thank you Shivi for bringing your Caribbean sunshine into our home and introducing us to Liming.
Recipes cooked so far:
Pepper sauce
You have to make this sauce for a number of reasons, it is essential, it is easy and it is without swearing too much bloody amazing.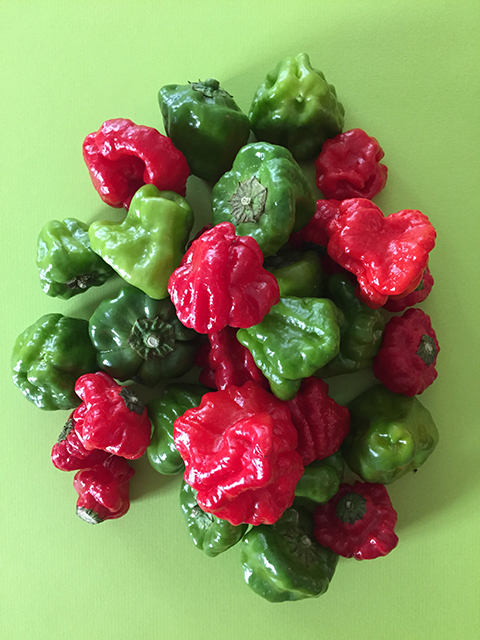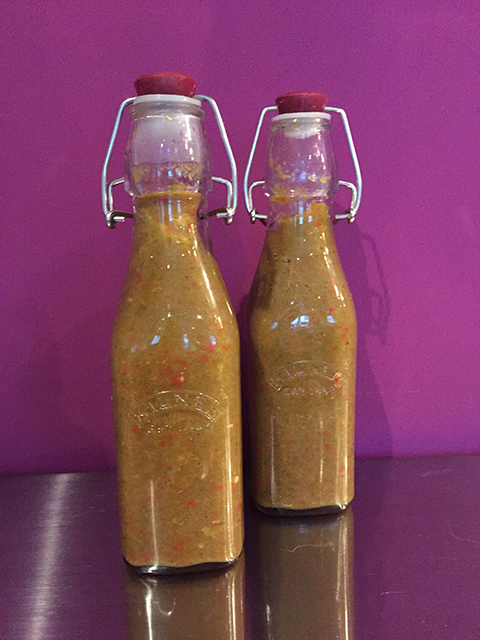 Cornmeal baked okra
I have only ever cooked okra in curries before so this was new to me. The result was a crunchy tasty healthy experience and they are great to dip in sauces.
Kale bhaji
I love kale and always looking for new ways to eat it, I had to add some chopped chilli in it at the end being a huge chilli fan, but that's ok Shivi says you can.
Coconut chicken rundown
This involves making a spice mix called amchar masala and this is a classic example of indian influences in Caribbean food. Rundown refers to the reducing down of coconut milk which leaves this dish earthy sweet and delicious.
Pineapple and peanut slaw
Carl love's coleslaw in every way it can be made and this was a winner considering he hates fruit mixed in with things. This slaw has just the right amount of kick from the chilli and the peanuts add an extra texture which goes really well.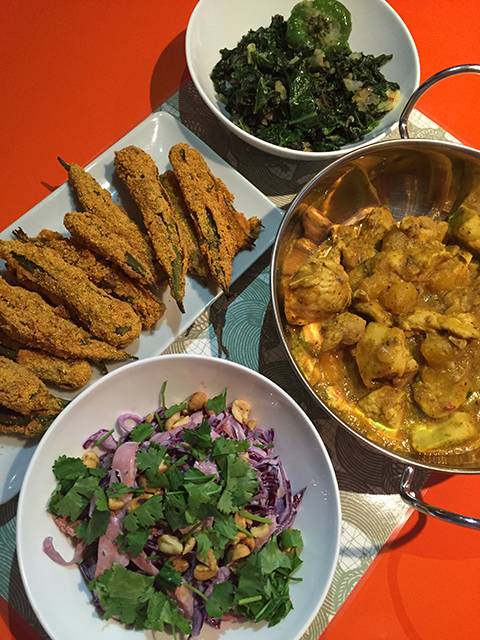 Tamarind-dressed sweet potato and beetroot salad
I love tamarind and Carl love's beetroot so this was an obvious choice to try. I've only ever used tamarind in Asian cooking and I adore its bitterness. This was lovely, full of feel good flavours and particularly love the crunch of the chickpeas.
Jamaican beef patties
I would have been disappointed if the recipe for patties wasn't in the book although living 200 yards from Trafford bakery the best pattie makers in Manchester I was in two minds weather to attempt them. From now on Trafford bakery has lost a customer.
Shrimp and black bean fritters with tamarind dip
Oh my god! In a word, amazing. Absolutely loved these and they will be a permanent favourite from now on, a complete flavour explosion worthy of a food oscar.
Cocktail sauce
This is so easy to make and when I tasted it I had flash backs from prawn cocktails in the Caribbean, no Marie rose sauce there, this was it, this was that sauce that I remember.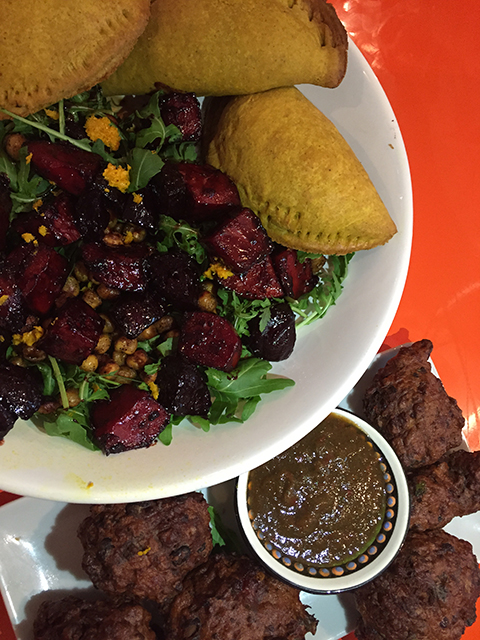 Sweet potato pone
A cross between a flapjack and a cake, spicy and just on the right side of sweetness, loved the coconut element and the grated sweet potato guarantees 1 of your 5 a day if you eat 4 slices. Guilty!