New restaurants are opening up all over Manchester with Spinningfields and the Northern quarter leading the way. Urban cookhouse however is located in what seems to be the next big area to be developed. Located on Princess Street, just a few minutes' walk from Chinatown and literally just on the edge of the Gay village, the bar and restaurant resides in the space that was formally known as The Manhattan showbar.
We visited on a Saturday night, the restaurant was busy and from the onset had a great atmosphere and the décor inspired by a New York loft absolutely matched our expectations. We really liked the clean lines, the perfectly laid out tables, the arrangement of the seating areas, the high tables in the windows, a huge bar area that separates the bar and restaurant and with a purple theme going on and purple being our favourite colour we felt instantly comfortable.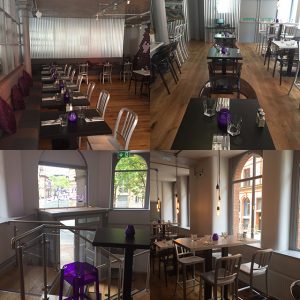 The service for the entire evening was faultless, polite, knowledgeable staff, tentative without over imposing and watching them at work you got a real sense that it was a great place to work. It was obvious that this was down to the owner Tim being present, working the floor, talking to customers, liaising with the kitchen and having fun with the staff. Having a manager that works front of house like this can really make the difference to a restaurant not only for the staff but more importantly for the customer. Far too many times we have been to restaurants where the service has been awful and there was not a manager in sight.
Our food selections was as follows:
Chilli & ginger pork scratchings which were unbelievably tasty, perfectly seasoned with the ginger and chilli and lucky for me Carl hates pork scratchings.
Whitebait with a lemongrass aioli. The whitebait was perfectly fried, just crispy enough to crunch but also leaving the whitebait meaty. Whitebait is often fried to long and they ultimately dry out, not here though. They were werved with lemon and aioli which is a standard accompaniment, I would have loved more garlic in the aioli but I am a big garlic fan so I understand it can be too much for some.
Lamb fillet salad, tossed leaf, onion, chilli, toasted almonds and harissa. This was a perfect starter size, the lamb was tender the leaves dressed just right and the combination of chill, harissa and the toasted almonds created a nice contrast.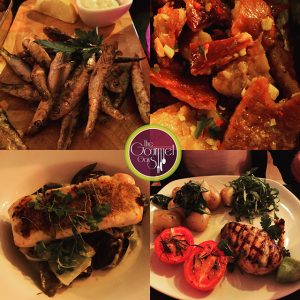 Coriander & Lime chicken. This was a huge plate full of food, you could really taste the coriander and the chicken was perfectly cooked staying moist and tender, served with potatoes, vine tomatoes, rocket, spinach and a wedge of lime. If you're hungry this is a great value for money plateful.
Thai Green hake, steamed mussels, lemon grass, chilli, coconut and coriander. This was the standout dish of the night. A generous portion of hake, lots of mussels, and the coconut broth with the Thai spices was balanced just right.
In complete contrast we also ordered a portion of bbq beans as a side dish, which you could really tell were homemade and really reminded me of tinned 'Bush's' baked beans in America. I'll definitely be ordering these again but next time with some chips.
In conclusion, it was a fantastic meal, the nicest we had out in quite a long time. When everything comes together like the environment, the service and most importantly the food it really does make for an enjoyable meal out.
I wanted to know more about Urban Cookhouse so I contacted Tim and asked him a few questions.
Can you tell me a little of your background and how Urban Cookhouse began?
My first hospitality job was working for Marriott Hotels in the Food and Beverage department, moved from there into the management team of an independent hotel chain but took voluntary redundancy during the 2009 crash so I could go to MMU to study Hospitality Management. Whilst studying I found myself managing two independent restaurants which was great fun and so after uni decided to continue working managing restaurants. In 2013 was approached to help set up and oversee a small pub group in Cheshire – which turned out not to be my kind of thing, I'm a city boy at heart. So in Jan 2014 I started to develop plans and look for a location to open my own restaurant and by March 2015 (and a couple of locations and concepts later) Urban Cookhouse was born…
Who would you say are fundamental in making it a success?
I think it's all about having a vision and creating something fantastic, so having people around you that believe in you and what you're doing helps a lot.
I've tried hard to recruit great people in to the team at Urban Cookhouse. We have a great Head Chef, Justin, who has helped develop our fabulous dishes, and our Head Bartender, Tom, has been instrumental in creating our cocktail selection. Being extremely hands on I insist in being involved in every stage of development; whether it's the electric installation or the wine list selection, just to ensure it fits with the vision.
What did you set out to achieve? What was your goal/business idea?
I wanted to create a casual restaurant and bar that people could enjoy, something that was a little bit different, a bit quirky, but still offered premium products and value for money.
Why Princess Street and the location you are at?
Right from the word go I knew I didn't want to set up in Spinningfeilds or the Northern Quarter, for some reason I just felt there was enough going on there and it would be nice to done something different. I wanted to locate the restaurant in an up and coming part of town and found 54 Princess Street to be great location, it's central, and the warehouse style buildings have some fantastic characteristics.
You have had great reviews to date and it appears to be popular, why do you think that is?
We are trying hard to compete in a really tough market, as you know there are new restaurants opening every week in Manchester at the moment. So, I think Urban Cookhouse works well as we have a wide range of products on both the food and drinks menus, we have a bit of a different style to other restaurants that are out there at the moment, and the location possibly draws a different client base.
Tell me a little about the chef/kitchen and the menu. How would you describe it?
Ah, the Cookhouse itself – well, we have a Head Chef who has a team of four who are all excellent… We opened with just our main menu, which is why it is seen to cater for so many tastes and occasions; be it lunch or dinner. All our dishes were designed with an Eclectic Fusion theme in mind; we wanted to blend all sorts of different flavours together.
Since our launch we've been redeveloping our dishes and making alterations based on feedback from our guests to ensure people are enjoying their experience with us. We've also introduced our Lunch Menu recently, where we provide a dish and a drink for £9.95 – this is proving very popular, especially with the local businesses.
Now that we've been open just over two months we've redesigned our entire main menu and really streamlined our product offering. Having the warehouse characteristics and the interior designed around a New York loft I think it's only fair the food offering should be too, after all there are so many diverse cultures and flavours in New York City! We're really excited our new Summer Menu will be launching in the next few weeks, with new dishes such as "The Big Apple", "125th Street Sub", and "A Cup of Joe". You could say this is almost like a mini rebrand, but it's a step in the right direction and it will give Urban Cookhouse an identity – something some of the critics have said we are lacking.
What can we see in the future for Urban Cookhouse?
We have the new summer menu launch coming in the next few weeks…
We are helping feed the homeless at 'Not Just Soup' on 9th June…
We're looking forward to getting involved in Pride 2015…
In general I'm looking to develop the brand and get involved with the local community as much as possible.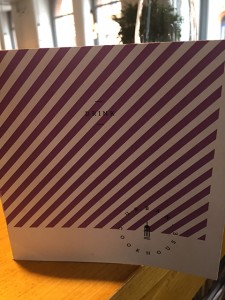 We'd also just like to thank Tim, not just for having a great restaurant, but also being a great host and making us Urban Legends.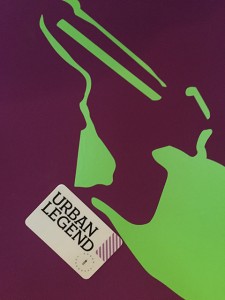 | | | |
| --- | --- | --- |
| FOOD | EXCELLENT | 5/5 |
| SERVICE | A LEADING EXAMPLE OF HOW IT SHOULD BE | 4/5 |
| DÉCOR | MINIMALISTIC, CLEAN AND MODERN | 4/5 |
| TOILETS | SPOTLESS AND MAINTAINED | 5/5 |
| TOTAL | | 18/20 |
| WOULD WE GO BACK? | | DEFINITELY – ALREADY BOOKED |