We are huge fans of all things Spanish and were very excited to finally get around to booking a table at Iberica in Spinningfields. The restaurant is the fifth in the Iberica collection and the first one outside of London. Guests at Iberica restaurants, so their website states, will consistently experience the passion and expertise of Executive Head Chef Nacho Manzano who has 3 Michelin stars to his name, all of them from his restaurants in Spain, Casa Marcial and La Sagar. When you look at the websites of these restaurants the food looks stunning, unfortunately I can't say much more as both of their websites are in Spanish and I'm limited on the translation other than the basics. Iberica also promise that Manzana will ensure only the highest quality ingredients imported from carefully selected Spanish producers are used. We should in theory of been in for an amazing experience.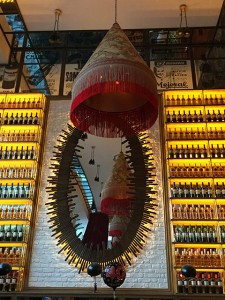 The restaurant itself is beautiful, set on the corner of The Avenue in what used to be the All Saints unit, it boasts an impressive 200 seats over two floors. There are outdoor terraces as well which it seems have been provided to 'bring the atmosphere of Madrid's famous terrace culture to Manchester'. Only one problem with that and that may be the weather. There has obviously been a lot of money spent on the décor, huge Spanish shawl chandeliers, white leather seating, a beautifully lit pottery display, classic Spanish tiling on the walls and lanterns on the bar which look like matador jackets. These lanterns drove my ocd mad though as none of the shades on them were straight and I wanted to straighten them all up in a hurry, and this was even before I'd had a sherry.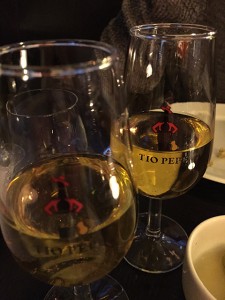 We love Tapa's style eating, small bites, drinks, and the focus more on being social and having conversation rather than the focus on the huge meal that is sometimes in front of you, it is very much the style at the gourmet gay's parties. We will decide a theme, you will drink and mingle and we will bring you out anything from six to twenty dishes throughout the evening for you to enjoy. Andy and I decided this was the way we wanted it after spending 5 days in Seville with a target of fifty tapas bars. We managed 46 by the way which was close to our target, it wasn't that we ran out of tapas bars which is an unthinkable idea in Seville it was more that the amount of sherry and wine we consumed overtook the ability to eat more.
On arrival at Iberica we were told our table wasn't ready yet so could we please have a drink at the bar which we did. I had a classic martini made with GM2 gin and Carl had a glass of Bobal and Tempranillo rose, the martini was perfectly made and the wine was subtle, dry and definitely one to accompany a mixture of tapas so we decided we would order a bottle with our meal. It took a while to get these drinks mainly because our server was making an 'old fashioned' and it took her 10 minutes to make it, we watched her stir it for what felt like 20 minutes let alone 10. Now I know a bit about cocktails and an 'old fashioned' involves sugar to be dissolved and that is not quickly achievable in alcohol depending on what sugar and what alcohol is used but to position your version of an 'old fashioned' to take 10 minutes to make, be thankful that the chances are that not many people in Manchester are likely to order one.
Literally as our drinks arrived our table was ready, thankfully it was upstairs, it was Saturday night and the bar area was busy and we had our fingers crossed that one of the high tables in the bar area wasn't ours. The host took us upstairs and showed us to our table, placed down the drinks and left, this is where the service or shall we say lack off began. No attention to detail on whose drinks were whose and who was sitting where, literally just placed them down on the table for us to arrange ourselves. Now it is Saturday night I know and it is going to be busy and having spent many years in catering I understand that but I also feel that you should get the same level of service whether it is a quiet shift on a Monday lunchtime or mid Saturday evening. 15 minutes later our waiter arrived with the menu's, he asked if we had been here before and efficiently explained everything. So here we go, drinks ordered, 2 nice glasses of Fino Dos Palmas and a bottle of Bobal and Tempranillo Rose, some Jamon Iberico from Juan Pedro Domecq and a toasted bread with tomato to start whilst we decided on the rest, and for the purposes of this review we also ordered some tap water.
Our Jamon arrived with our bread and sherry. The sherry was sublime, beautifully matched with the Jamon which had been aged for 45 months, the bread with tomato was nice although lacking the real tomato flavour one would expect if you were in Spain.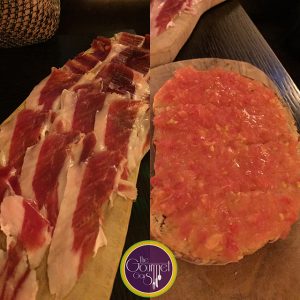 Our tapas selection then commenced as follows:
Asparagus, manchego, onion confit and truffle oil toast. Even before we ordered our food we noticed a smell of truffle in the air, obviously this is where it came from. This was delicious, asparagus being bang on season, the manchego balanced with the confit and truffle oil was perfect.
Padron peppers with Maldon salt were as expected, cooked perfect and just enough saltiness but we have had better, the peppers lacked flavour.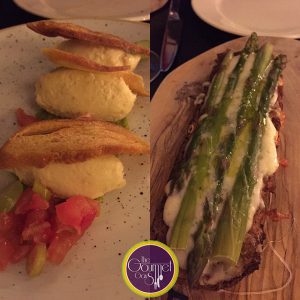 Spring onion tempura with lemon aioli and soy sauce. We were confused by this as it is a very oriental dish which isn't a problem because tapa's can be diverse. It was as described, a spring onion in tempura batter with some soy sauce and aioli.
Iberica's Serrano ham croquettes. A classic tapa and perfectly made, faultless.
Confit of cod (brandada) with olives and white grapes. The confit was sublime, extremely nice salt cod, matched with the grapes, tomatoes and toasts. This was like being in Seville.
Gloria cachopo, fried beef and Iberico pork patty filled with Asturian cheeses. This was our most disappointing dish, it was bland, under seasoned and lacked flavour. A stronger cheese would have improved this dish and there were was no mention of mushrooms on the menu however these were perfectly cooked and an added bonus.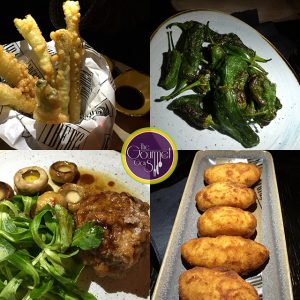 Chickpea puree with chorizo, pancetta and tomato salad. This was our absolute star of the evening, the puree was magnificent, smooth, silky and moorish, match the puree with classic ingredients reminiscent of Spain and you are on to a winner, we would go back just for this dish.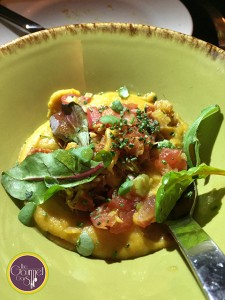 After an hour and 35 minutes our meal was over, and overall as far as the food was concerned we were impressed however the service was appalling. Our wine was served and a preferred iced wine bucket provided but then no one ever came back to pour it, 4 times we asked our servers for water at every occasion that a dish was served and yet it never arrived. At no point throughout our meal did anyone come over and ask how our food was then at the end of our meal we had to ask for our bill twice before anyone eventually brought it over. Luckily the person who brought it over was one of the managers and when we explained that we didn't want to pay the discretionary 12.5% service charge because of the lack of service and how disappointed we were he apologised and without any further explanation told us he would remove the sherry, wine and Jamon from our bill. We did appreciate this gesture but it should have been unnecessary, it was pretty obvious from looking around and getting a general feel of the place that it was quite chaotic and it wasn't running as smoothly as it should have been that night. As far as the service charge that we objected to, firstly I absolutely object to automatic service charges, a tip is provided pending on good service and should not be a given added extra to the bill because this then provides the waiting staff with an assumption that no matter how ever they deliver the service they will still get their tip. This obligatory assumption that customers are alright with an added service charge can give restaurants an excuse to pay the absolute minimum wage for their staff. I am of course assuming this will be the case as I don't know what they pay their staff but if they are getting a share of a 12.5% tip from the majority of customers in Iberica then I'm pretty sure they are doing alright money wise.
Upon entry to the bathroom facilities I was faced with an abundance of mirrors, it felt like being in one of those hall of mirrors at a fairground. The facilities were unisex, so cubicles on the left for men and cubicles on the right for women with a central hand washing area. If you are providing a unisex facility why not just have unisex cubicles? Why would you specify left side for men and right side for women? I am also not a fan of unisex toilets for a number of reasons, men tend to go and leave, women tend to go, chat, socialise and then leave so we all have different purposes. In the absence of a urinal a cubicle it shall be and then yet again I was faced with a full on ceiling to waist level mirror. Is there a need for this? Who decided it would be great to put a mirror to look at when you are urinating? I wonder if there is a mirror in the women's cubicles opposite. Thankfully that's all I was doing as the cubicle I was using had a broken lock so there was no way I could confine myself in comfort. I will point this out to any restaurant that we will review that bathroom facilities are important, we all use them it's human nature and our assumption is that in our home we look after them and keep them clean and presentable and if we are using your restaurant and paying money for your food, service and establishment then your bathroom facilities should be faultless and there is absolutely no excuse on this, quite simply if you are not looking after the back of house then I am very cynical about the front of house.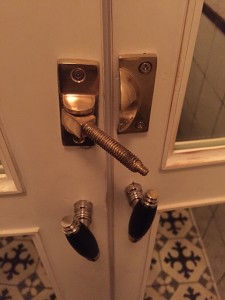 | | | |
| --- | --- | --- |
| FOOD | GOOD, ALTHOUGH NOTHING EXCEPTIONAL | 4/5 |
| SERVICE | DISAPPOINTING | 1/5 |
| DÉCOR | BEAUTIFUL AND STYLISH | 4/5 |
| TOILETS | MIRROR HELL/BROKEN LOCK | 1/5 |
| TOTAL | | 10/20 |
| WOULD WE GO BACK? | | MAYBE |