It was inevitable this cookbook was going to be my first review, firstly it is endorsed by my favourite Nigella Lawson and secondly chicken features in our household at least twice a week. I have not for a very long time looked through a book and been compelled to cook so many so quick. I gave up on my post it tabs in the end, deciding I wanted to cook everything from beginning to end.
As far as my reviews go, they will always be honest.  I can be slightly pedantic and picky, however, I like everyone else am entitled to an opinion. I like books with pictures (honest pictures at that), I like to get to 'know' the author and most of all I like to be able to cook from it. Give me a book that has 25 recipes featuring ingredients that are only available on mail order from eastern Mongolia and you are likely to send me into ocd overdrive saying to myself, 'I must get hold of that ingredient', only for me to find it, purchase it, forget about it and it eventually ends up in the bin. I have got over this behaviour by the way, but only just. I will always show that I have cooked at least three recipes from the book and give you my opinion on those recipes, if any is needed at all. I do also appreciate publicity reviews, they need to happen, however I'm a cookbook collector and I think it would be untrue to myself to review a book had I not even taken the time to cook something from.
And so, back to the cookbook in question. Diana Henry is a very popular and well know food writer. Know for her regular column in the Sunday Telegraph as well as features and contributions to a number of magazines.
This is her ninth book, of which I have a number of them. My favourite to date was 'Roast figs sugar snow', that was until her latest arrived in the post. A bird in the hand as you may of already know is an entire book based around one of the most popular meats that we eat, the humble chicken. In her own words the book contains "recipes for every day and every mood", and it certainly lives up to that description.
We eat chicken a lot in our household, it is wonderfully versatile, lean, nutritious, healthy and adaptable in so many ways, and this is what Diana sets out to show us. In her book you will find chapters based around suppers, lunches and dinners then add to that dishes that are scented and perfumed with spices or booze, follow all that into the world of salads, bbq's, celebratory dishes and my absolute favourite, remains of the day: what to do with the rest of that bird. The recipes are all easy to follow and should not be a problem for any relatively experienced home cook. The photography is true to form and doesn't deviate from the recipes, they look exactly how the finished dish should look as well, no added ingredients in the pictures for aesthetic reasons that I could see anyway. Granted there isn't a picture for every recipe but based on the images of the other 80% of recipes you can safely bet that the end result will be just as stunning.
Mexican chicken and pumpkin with pepita pesto
This was absolutely was absolutely delicious. It was served from the tray as suggested in the instructions, which was great as it was a perfect vehicle to then chuck in the bones. Lip smacking goodness.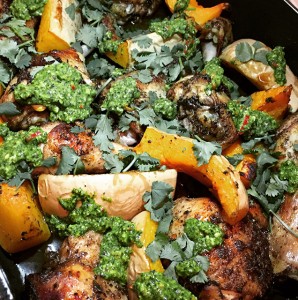 Smoky chicken salad with roast peppers, shiitake and sugar snap peas
This was a great salad, the marinating of the chicken really does give it an oriental smoky flavour and as a bonus at least 3 of your 5 a day all in one dish!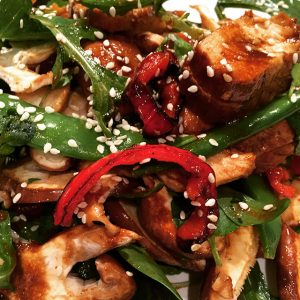 Bourbon and marmalade-glazed drumsticks
Sticky, sweet and moreish with just a small hit from the chilli. They were great cold the next day to.