I have a fondness of cooking anything that uses any combination of spices which is why I tend to cook a lot of Indian, Asian and Middle Eastern food. There is just something magical about the multitude of tastes that bringing together a few or a lot of spices can bring. I am quite lucky to have travelled and visited quite a lot of countries over the years, however the Middle East is not the easiest of places for a gay traveller. I've been to Turkey, Egypt and had a brief stopover in Dubai, although classed as the Middle East they are not the countries we generally associate with the Middle East like Iran, Iraq, Jordan, Israel or the territories of Arabia. One of the main reasons why I love my cookbooks is they can help take me away on imaginary holidays to places I only dream of visiting and help me discover the cuisine and tastes of wherever I may be. This is exactly why I love Persiana – Recipes from the Middle East and beyond.
Persiana has just celebrated its one year birthday and Sabrina Ghayour the British Iranian author, chef and supper club host was named by The Evening Standard as one the 1000 most influential people in London in 2014. The book itself won the best new cookbook 2014 at the Observer food monthly awards and this year is up for another award at www.foodandtravel.com/awards.
Beautifully endorsed by Tom Parker Bowles amongst many others, I couldn't have put it better myself.
"This wonderful Persian-born chef is a master of the Middle East and her book is sumptuous, thrilling, learned and downright brilliant."
And put simply it is. I love books which have a story, where the author has substance behind each dish, where descriptions of the recipe make you want to make it and eat it before you have even looked at the ingredients or the picture. Images and descriptions of rose, saffron, mint, pistachios, sumac, harissa, preserved lemons and pomegranates throughout, I can't look at any of these ingredients now without picking up this book.
So back to my imaginary holiday. I love to eat in groups, where people share, whether it be family or friends, the social side of food is what I love and every element of this book makes me want to have it all cooked, yes every dish, all of it brought out in one big banquet, somewhere in a desert in the middle east, surrounded by little fires keeping the night chill off us, Bedouin music playing alongside, one big nomadic family brought together by an enjoyment of food.
This book safely takes you through each chapter, the recipes are not overly complicated, no mysterious ingredients in here and the photographs all do justice to the recipe it is meant to be.
Thank you Sabrina for bringing a little piece of your world into ours.
Smoked aubergine salad – batinjan al rabbi
I love anything with aubergines, the smokiness of the aubergines mixed with the freshness of the peppers combined with pungent garlic, need I say more?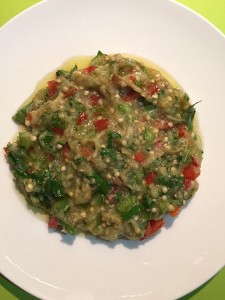 Saffron and rosemary chicken fillets and Quinoa salad with toasted pistachios, preserved lemons and courgettes
These chicken were very moorish, it's an excellent way to really taste saffron and they were great cold the next day to. As for the salad, I will admit I'm not a huge fan of quinoa it has to be mixed with bold flavours so the preserved lemons and crunch from the toasted pistachios really made this work.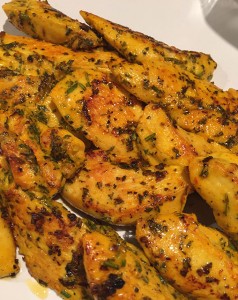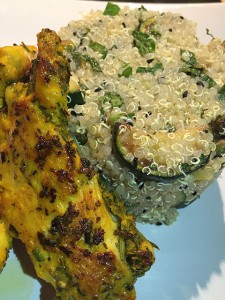 Citrus spiced salmon
I have never used rose petals before other than for decoration but you can just about savour the taste under the citrus tones and bitterness of the sumac. This is a very easy quick dish to make and we had these with the tray roasted baby courgettes with garlic and tomato.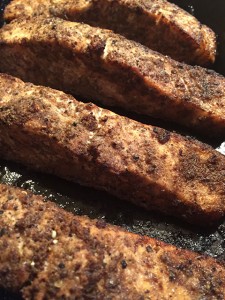 Pistachio, Rose and Raspberry Madeleines
This was a new method of making madeleines for me, I have never known the batter to be chilled for two hours prior to cooking as this made the batter quite thick and awkward to spoon into the moulds, but saying that it worked and they were delicious and Sabrina does say herself  "I defy you not to scoff at least three of them in a row". If you follow this lady on Twitter or Instagram then you know she loves her food and she was right, I had four.