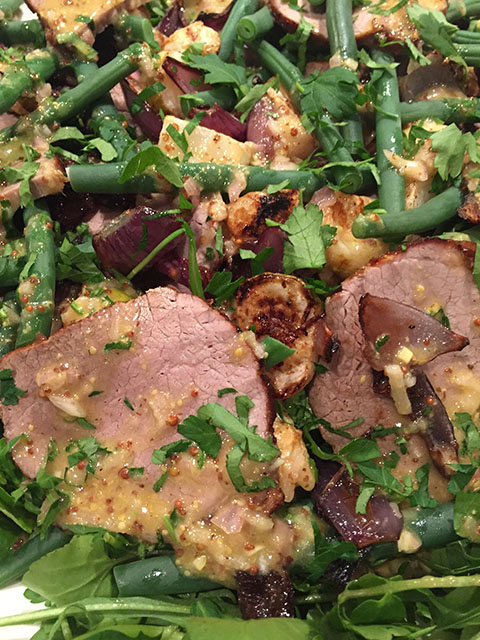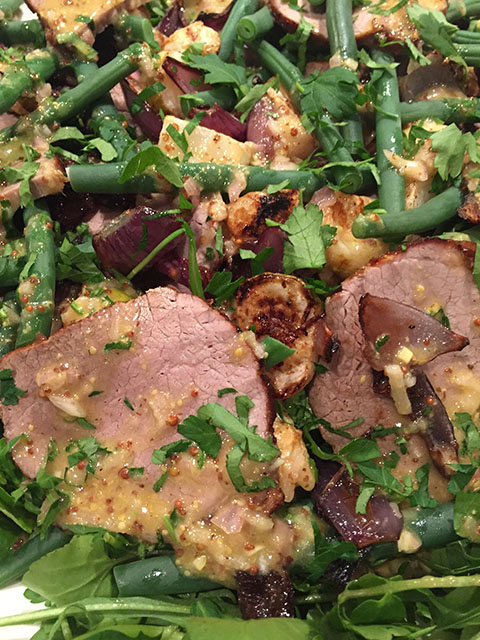 Directions
Season and fry your beef until brown all over then place in the oven for approx. 40 mins, depending how big your joint is and how you like it cooked, you are aiming for pink in the middle
Meanwhile in a bowl toss the turnip/onion with some oil and season.
Place in the oven for the last 10 mins of your beef cooking time, they will take approx. 30 mins to char and cook through whilst your beef will be resting.
When the beef is done, remove and let it rest for 20 mins, give the roasting veg a little stir and toss and while they are continuing to roast, boil your green beans for 2 mins, drain and set aside
Whisk all your wet ingredients then add the shallot and parsley and season well.
Remove the roasted veg when they are ready and you are now ready to assemble
In a large bowl, firstly lay down your salad leaves
Slice your beef thinly and layer on top, then add the roasted veg, then add the green beans
Ingredients
1 Joint of lean beef approx. 750g
8 baby turnips washed and peeled if required, quartered
2 red onions peeled and chopped into wedges
Leaves to serve such as watercress, rocket and spinach
Dressing:
1 tsp truffle honey or good quality runny honey
0 Reviews