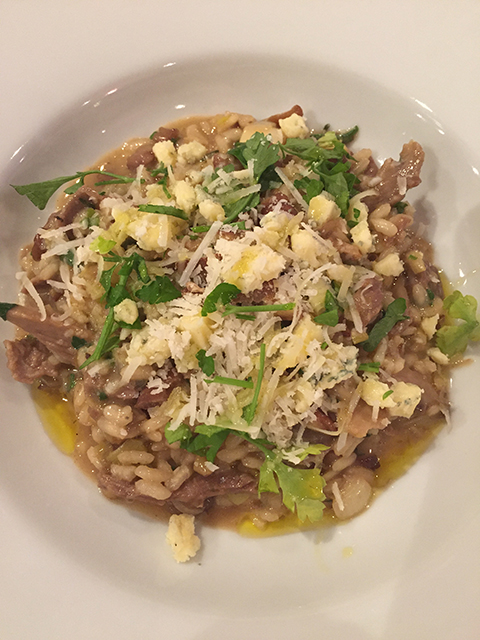 Goose, stilton and chestnut risotto
January 1, 2016
Risotto's are a labour of love, it is satisfyingly rewarding standing over a pan continuously stirring whilst it all comes together. This risotto came about quite simply as a result of a number of staple xmas leftover ingredients, chestnuts, meat (we had goose) and stilton cheese. You can of course use other bird/game meat and alternative cheeses, the added truffle oil when serving is also optional as it's not to everyone's taste but do try it as it really brings this all together beautifully.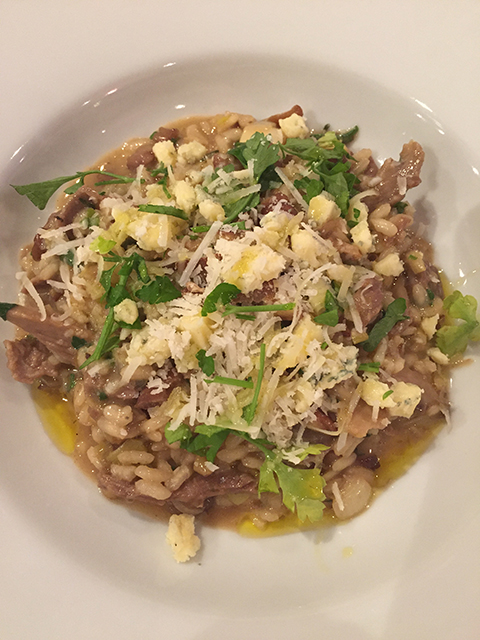 Directions
Heat the oil and butter in a large frying pan
Sauté the shallots and leeks for about 5 minutes to soften then add the thyme leaves and stir through for 2 minutes
Add the rice and stir through for about 3 minutes to coat and start to open up
Add the wine and stir through until it's all soaked in
Add the chestnuts and the meat stir through and then begin adding the stock ladle by ladle continuing to stir all the time
After about 15-20 mins and when nearly all the stock has been used up check the rice, it should be just al dente with a rich creamy sauce, if not then continue a little longer adding more stock
When you are satisfied the risotto is ready remove from the heat and stir through most of the stilton and the parmesan leaving some to sprinkle on the top with the extra chestnuts, also stir through the butter and chopped parsley, check for seasoning and then leave with a lid on for 5 mins before serving
When you are ready to serve, plate up, add the remaining chestnuts and cheeses on top and drizzle with a little truffle oil
This doesn't have to be made with goose meat, feel free to use turkey or chicken or any other leftover bird meat.
Ingredients
2 banana shallots finely chopped
2 small leeks, white parts only finely chopped
100g chestnuts crushed to smallish pieces, plus extra to sprinkle on top before serving
250g leftover goose meat cut into slices
Approx. 1.2-1.5 goose stock or chicken stock warmed up in a pan
0 Reviews