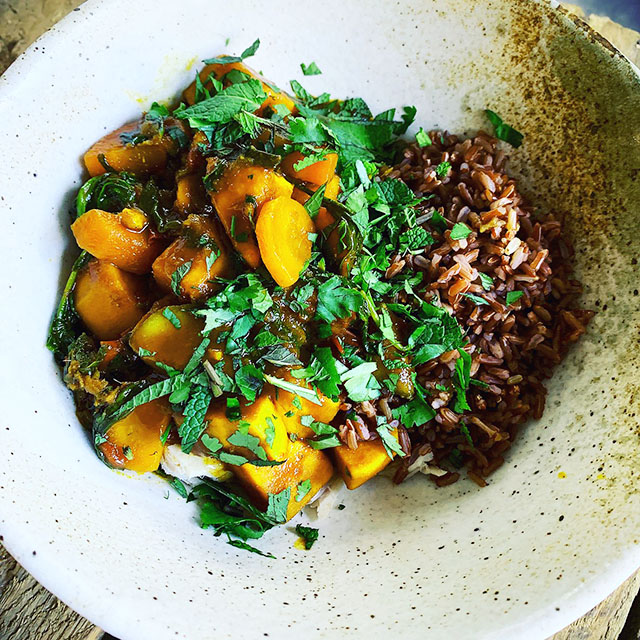 Carrot, sweet potato and ginger curry
August 4, 2019
We love a curry but they are just not the same without the onion and garlic however with this recipe you can still appreciate other flavours typically associated with curries such as ginger, cumin and turmeric. You can amend the chilli content to suit your preference, add more or less, the tamarind sets a tart tone and the fish sauce adds a salty umami element, you can get vegetarian alternatives if you wanted to make this curry vegan.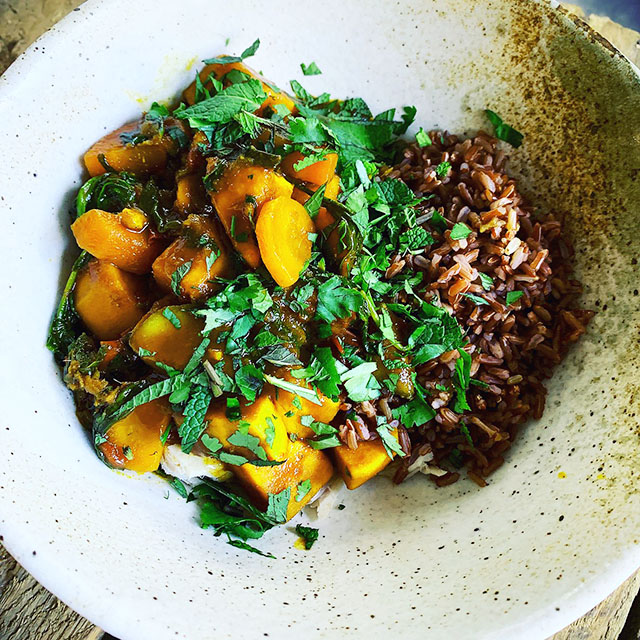 Directions
Heat the oil in a non stick pan
Add the courgette and peppers and stir for 3-4 minutes until starting to soften
Add the ginger and chilli and stir for a further 2 minutes
Add the spices and the chilli flakes if using
Add the carrots and potatoes and stir to coat and cook for 1-2 minutes
Add the water or stock, tamarind and fish sauce
Cook on a simmer for 15-20 minutes until the vegetables are cooked
Season to taste and then stir through the spinach
Adjust the tamarind and fish sauce to your taste
Add half the coriander/mint and stir through, garnish with the rest
Serve with rice of your choice
For those following a strict low fodmap diet and find it difficult to buy stock suitable Tesco's own low salt chicken stock appears to be gluten free and with no onion or garlic powders stated.
If, like Carl you pull a face at vegetarian meals, try it fist because he loved this but still felt the need to add some leftover cooked chicken!
Ingredients
2 tablespoons of garlic infused oil
1 courgette sliced in half lengthways and then into half moons
1 pointed red pepper sliced in half lengthways then into slices
3 inch piece of ginger coarsley grated
1/2 tsp chilli flakes (optional)
2 large carrots peeled and cut into chunks
2 large sweet potatoes peeled and cut into chunks
200ml of water or low fod map vegetable/chicken stock
1 small handful of coriander chopped
0 Reviews